A short tale about how small the world is.
Without doubt these cars do something to people in a way that modern cars simply don't do. People get attached to them, worry about them and seek out appropriate custodians when they realise they are no longer capable/able to give these cars what they need. Many find other enthusiasts and form networks with other like minded folk. Its only once you do this, you begin to realise how small the world really is.
I got a phone call from a youngish guy interested to buy the first car we'd built with the intention to turn a profit. Unfortunately for him we had already sold it but I mentioned we had another two cars in the pipe line. He was enthused and asked me for details and to let him know when they were ready. Several months later I dutifully did so but it transpired he'd already found a car, never mind I thought.
A few weeks later I got an email from this guy again. It turned out that after he'd bought his 520i auto the gearbox had failed and he suspected the head gasket was also on its way. The email contained a brief overview of him and some friends deciding the best course of action was to pull the original M20b20 engine and automatic gearbox and replace it with a M30b35. It quickly transpired he was out of his depth and decided to ship the car down to his local classic car specialist. What happened next is a fairly familiar tail.
The project was started Gun-ho and the rear axle was also stripped off. The reason for this was to fit an M30 rear axle complete with limited slip differential to deal with the extra power the M30b35 would produce. Whilst it was out it was deemed sensible to tackle some areas of the inner sills and axle mounts which had seen better days so some nice welding was performed to tidy up these areas, result ££££ spent! Next an engine, gearbox, prop shaft, wiring loom, ECU's, rear axle and limited slip differential where found and shipped down from Scotland to Surry, result ££££ spent! Once the welding had been completed the new rear axle was installed and the engine and gearbox where fitted in situ but sadly thats about as far as the story goes. The mounting bills for parts and labour had crippled the poor guy and all told he had way more in the car than it would ever be worth and it was still far from running. I doubt it helped that he'd bought an M30b35 engine for the conversion as it would have made the project much harder than fitting the M30b34 which 535's where fitted with from factory (The b35 was fitted to E34's and E32's as well as Highline spec E24's and has different coolant plumbing)
The email ended with him wondering if I'd be interested in doing a part exchange for his unfinished project on one of our completed cars. He'd spent a fortune on his but as he was starting a new business he just needed one that could be driven as his mum was fed up of him borrowing her car. The call was made, a deal was done and I set off to Surry with my girlfriends 525e which she'd decided to part with and we had reached a viable part exchange deal on. Clearly a smart guy he released he would never get back the full amount he ploughed into the car or even anywhere near it. At the time it may have made £800 or so on eBay but knowing the source of both the engine, gearbox and rear end to be reputable I gave him £1500 against my girlfriends 525e.
I arrived at a certain well known purveyor of to die for classic cars in Surry and was led to their grave yard of unfinished projects where FLO was sitting with her own internals strewn throughout the interior and boot.
Here are some picture from the day of collection.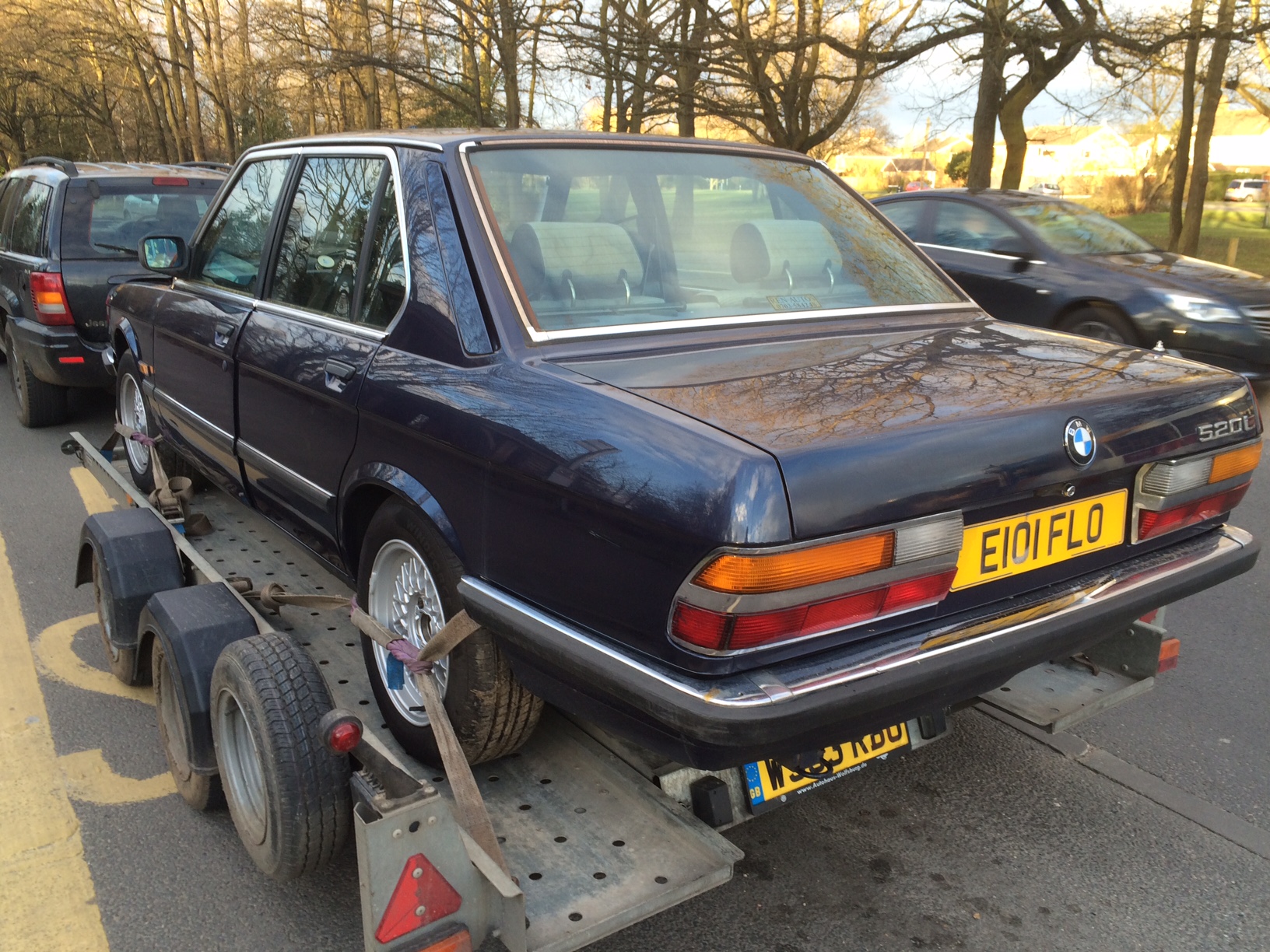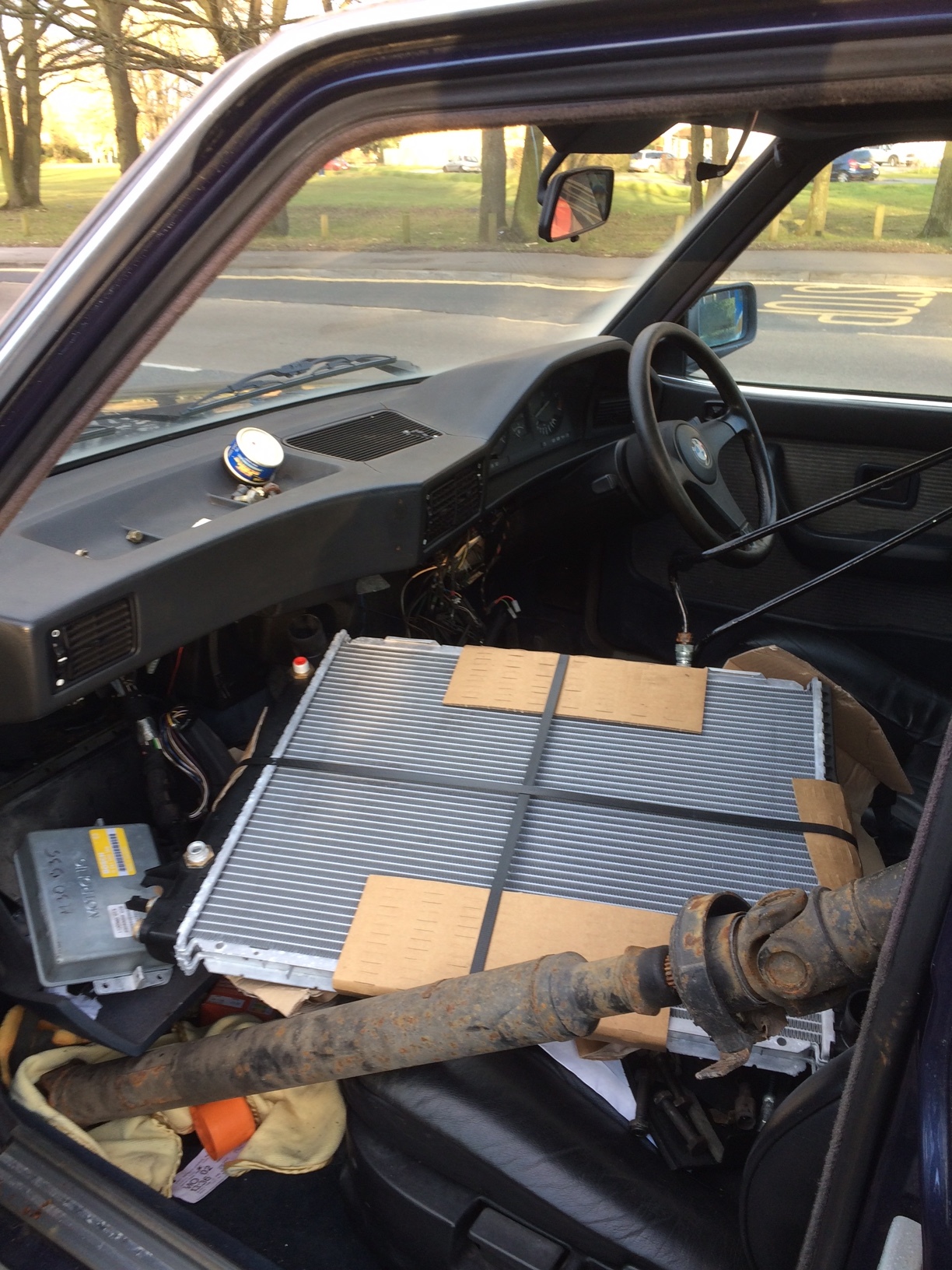 So, home FLO came and I'm sad to say that for the first 6 months to a year she didn't get much attention from us either. During this time we acquired some new premisses for storage so FLO did get moved inside pretty quickly but their she laid and collected a lot of dust.
Some time during October 2016 a guy I know locally told me of a car down in Southampton which was for sale and might be a good source of parts. Its engine had been removed years earlier and it had sat in barn for some time before being liberated by its new owner who wanted to restore it. On closer inspection the new owner had got cold feet and decided it was to bigger project. It sounded pretty bad on the phone and unfortunately some cars really are just to far gone for them to be viable restorations and therefore serve as donors to keep others on the road. It is not often we dismantle cars at Classic Bahnstormers but when we do, we try and save and recycle literally everything.
This particular car had been deposited in a front garden straight off the back of a lorry with a hydraulic bed. The first pictures shows it exactly as I found it behind a huge mound of soil with flat tyres. As the owner and I pulled the car from its resting place we got to talking. He pointed across the road at a driveway and said, "For years there was an old chap over there with an E28, a 520 under a tarp, Just sitting there. He'd start it up every now and then but it never left the drive. Eventually I persuaded him to sell it to me and I got it back on the road". AT this point his girlfriend emerged and said "are you talking about FLO, I loved that car". By this point FLO had been sitting in my barn since March. I produced a photo and said, "its not this car is it" low and behold it was! It turned out they'd pulled FLO off the old mans drive and got it going again for him. They'd enjoyed cruising around in it and I guess it gave them a nice feeling to have returned it to the road but as he said they already had an old BMW each so they decided to move FLO on. They actually sold the car to a specialist in Wales, whom the chap I bought FLO from had acquired it. It's a small world we laughed.
Finally in March 2017, a year after first acquiring FLO we decided (after some stick from one of our customers) that we really ought to get on with the project. FLO is an excellent shell, good sills, rear sub frame mounts, inner wings, floors and screen apertures. We had acquired the original rear end, trailing arms, axle carrier and diff when we first collected FLO and we decided to reinstate these along with some new bushes. We don't tend to deal in modified cars at Classic Bahnstormers. We have nothing against them and have done lots of engine conversions and modifications for our customers but these cars are still most desirable in terms of resale, when they are stock so that is what we decided to do with FLO, put her back to her original 2,0 litre automatic format. To get the M30 engine and transmission in, the previous guys had removed the radiator support panel as the M30 radiator uses different mounting points. As you can see above, once we'd removed the M30 engine we had to weld a support panel back in which we cut from another car (seen in red above).
In the summer of 2016 I acquired another 520i auto which I had originally intended to restore. It came from a really lovely chap who had sadly miscalculated one day and front ended it. He was so embarrassed he'd gone out and bought an exact replica of his own car. He told me with a smile on his face it took weeks for any of his work colleagues (who had ripped him for driving an old banger) to notice the registration of his car had suddenly changed. His original car was tucked up in an old pig shed and forgotten about for 8 years. In this time he collected many of the pieces which where needed to put the car back on the road but unfortunately, by the time we got to it, years of living in a damp and humid tin shed had taken its toll, the chassis was soft and the rot had taken hold around the front windscreen. After resisting the suggestion we could use this as a donor for FLO for nearly a year I eventually caved and it was decided that the low milage (107k) engine and transmission would be used to breath life back into FLO.
At this point its worth noting that FLO will probably always have a place in the heart of our newest team member pictured above. It represents his first engine removal and reinstallation and a whole host of other firsts under a watchful eye.
Once the engine was in the project began to gather speed. The donor engine ran surprisingly well considering it had sat unused for so long. We went over it and fitted lots of new parts including, a timing belt and tensioner, thermostat, water pump, sparks plugs, oil pressure sensor, distributor cap and roar arm and a whole host of other odds and sods. The previous owner of the donor car had loads of history and a wod of receipts for the car so it was clear he'd looked after it well. Once the engine and gear box was refitted along with the propshaft from the donor we set to work on reinstalling all the trim and interior which had been removed whilst the engine conversion had been carried out. The original front seats had been switched out for Black leather ones from an E34 (next generation 5 series) but we managed to track down some original seats with matching blue velour fabric to complete the interior. We also replaced a smashed back light, renewed all the fuses and repaired the drivers door lock so it would fire the central locking properly.
Outside under its own steam for the first time since 2015 FLO had temperarily lost her 15 inch alloys whilst they went off to be shoed with 4 matching continental tyres. We'd also been through the brakes completely renewing all the fluid and connecting up all the new flexible hoses and brass lines that had been added. The callipers striped and cleaned to make best use of the new discs and pads.
Unfortunately the test run didn't go so well. A hideous noise could be herd from the drive train on deceleration. I have to take responsibility for this one as it turned out the differential had been drained of oil before we acquired the car and we had not checked it before our maiden test run. The differential from the donor car was quickly installed and FLO hit the road for the second time and wafted effortlessly along in style once again. I was struck by how well the car drove and how tight it all felt. Nice responsive steering and brakes, by no means is the 2,0 litre a fast car but it's smooth and plenty responsive enough. FlO is a wonderful stylish cruiser and a very pleasant place to be.
The twist is, that the gentleman who sold me the car which became the engine donor, did say at the time that if we restored the car he would be very keen to buy it back. I felt guilty for consigning his car to our parts store so I felt I should let him know what we'd done and give him first refusal on FLO as most of the drive train was now made up of his old car. He took the news pretty well, as I am writing this article I am waiting to here whether or not he does indeed decide to have FLO in place of his old car.
Sadly for the gent who owned the donor car, it turns out he's not in a position to purchase FLO at present so this means we will shortly be offering the car for sale.
Find the advert here